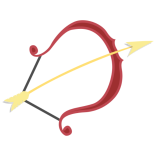 Sagittarius:
November 22 - December 21
GENERAL:
This year 2022 will enable you to light your road of a new light, which had been lacking to you for two years. The period will be ideal to leave a situation which comprises too many constraints compared to your possibilities, what is in the professional or relational plan. You need personal evolution, which has all the chances to be concretized this year.
WORK:
You need to create optimism around you, to give a second breath to your everyday life which suddenly, will appear too narrow to you. Reorganizations are at the order of the day, you have the wheel in motion, profit in. On the other hand, some astral influences show the possibility for risks of inopportune racings in changes which you will carry out, you will tend to hustle others in their imposing your organization. Take care of preserving your collaborators' pride, targeting your projects without imposing your views, negotiating.... To request a promotion, to undertake an approval or study trip will be at the order of the day between April and August. You will have achieved a cycle which was carrying a teaching. It is what will enable you to revalue your position in a constructive way.
LOVE:
You could find a new balance during this year. You will wonder about your intimate or family life, seeking to make your daily existence in conformity with your personal requirements. And undoubtedly you will arrive to a greater coherence, leaving social suitability there to devote you to origin : to find your rhythm clean. It is important above all to build a life framework to the measurement of your aspirations, a "sweet home" to last. On the private level, you play charts on tables with an astonishing sincerity, fleeing neither the possible complications nor discomfort of a situation in becoming. It is necessary for you to make be worth your personal options and say which you are really, in April and May, particularly. Events accelerate suddenly and place you in front of a new alternative, a choice to be made which can engage yourself in the long run. It is necessary for you to react, sometimes in an original or innovative way. This period is favourable with all radical transformations of your love and family life. From May and until the end of the year, be careful to those who try to block your desires! You will let nothing or nobody shake your convictions, preferring to break that to fold. Wheels of your love life escape to you temporarily, which carries out you to reinvent rules of the game. This year will be marked out strong moments in emotions, passion tracks you! Profit in without you letting invade, especially with regard to your choices.
MONEY:
Chance will come at the right moment named to facilitate you life on little details likely to facilitate your road towards successes which you discount, in particular with the financial plan. Your imagination will be a great utility for you and will be your best ally to clear you a way through obstacles of everyday life which touches directly with cash, which circulates in the short run. Your optimism protects you from small contrarieties related to lapses of memory in your papers, your invoices. You rectify the bar in your accounts as from May, it is there that you will take best initiatives to rebalance your budget in the good sense investments in real estate, or long-term. Do not hesitate to supplement your information over other sources to stabilize transformations which touch your life with everyday life by taking account of requirements of a new personal situation or family.
RELATIONSHIP:
This year 2022 advantageously comes to raise your energy level, you feel a desire for living pressing, and will be capable to launch you in pleasures, which come to you easily. It will be necessary to find the ?brake? which will enable you to hold over the duration. You will have extremely many things to do to manage your time, your rhythm of life will intensify and will make you evolve to plenitude, your major challenge this month will be to moderate you, particularly between April and June. Your unconcern can carry out you to waste chances which will pass very close to you if you keep aware, put all chances on your side by preserving audacity which characterizes you to seize opportunities of blooming while keeping cool as for decisions to be taken, take time that it will be necessary without remorse.
VITALITY:
You will begin this year full of beans, you manage your energies with temerity and enthusiasm. Your energy pushes you to act at all costs, you will have need to gain in control, more especially as you are currently launched on clearly constructive actions which intensely will mobilize your energy until June, it acts to hold the distance... From July, some lassitude in everyday life, a need for nature in the broad sense is felt. Do not resist to it, you will go from there only better and it is in this context that you will most effectively find the means of centring on yourself. Your optimism largely supports yourself, it does not have there a major concern in prospect. Rebalance your menus according to your true needs, your greediness weighs down you, it is necessary to eliminate.
All signs of the zodiac:
Aries
Taurus
Gemini
Cancer
Leo
Virgo

Libra
Scorpio
Sagittarius
Capricorn
Aquarius
Pisces