Daily Horoscope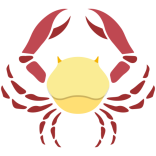 Sign of the zodiac: Cancer
Daily horoscope for Saturday, May 21, 2022 will help you plan your day well. Read your today's horoscope and see what awaits for you. See, whether for your zodiac sign today's day is going to be successful. With our horoscope, you will be ready for every waiting surprises and possible troubles. Remember, that your horoscope for today may be a warning and also a blessing.
Horoscope for day:
Saturday, May 21, 2022
The mood is somewhat oppressive today. If you could, you'd send away anyone who tries to put obstacles in your path. Or maybe you'd prefer to go away yourself! The day ahead is good for a realistic test of the waters. How far do you think you can go with your individual potential, emotionally and professionally?
Lucky numbers for today: 6, 8, 16, 23, 27, 36
Today's color: 

 

gold







Lucky time of day:  Night 10.00 pm - 6.00 am

Today's Matches: 


Love

Taurus
Friendship

Capricorn
Carrer

Aries
All signs of the zodiac:
Aries
Taurus
Gemini
Cancer
Leo
Virgo

Libra
Scorpio
Sagittarius
Capricorn
Aquarius
Pisces