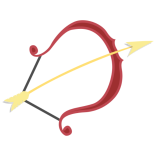 Astrological Profile for Those Born On December 6
Your Sun Sign is Sagittarius
Your personal ruling planets are Jupiter and Venus.
You are always searching for truths in this life time, and you love to explore and learn. In fact, you are thirsty for knowledge. There is a flair for the dramatic in you, although you do come across as straightforward, personable, and frank. You make snap decisions. For the most part, you are able to complete what you start, and when you don't, it stems from over-estimating your human capabilities, not from lack of follow-through! You require intellectual stimulation in order to hold your interest in relationships, as you are restless and desirous of change.
Your lucky colors are white and cream, rose and pink.
Your lucky gems are diamond, white sapphire or quartz crystal
Your lucky days of the week Friday, Saturday, Wednesday.
Your lucky numbers and years of important change are 6, 15, 24, 33, 42, 51, 60, 69, 78.
Famous people born on your birthday include William S. Hart, Joyce Kilmer, Ira Gershwin, Agnes Moorehead, Dave Brubeck, Wally Cox, Tom Hulce, Gina Wild and Lindsay Price.