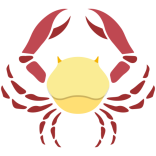 Astrological Profile for Those Born On July 5
Your Sun Sign is Cancer
Your personal ruling planets are Moon and Mercury.
You are excellent at business and tend to have what many people think is 'good luck' because you are typically successful in whatever you set out to do, but you do work hard. You tend to seek out relationships and feel incomplete without them. You are accomplishment-oriented, and you tend to attract success with a powerful, even if quiet, aura around you. While not feeling content with what you have does keep you moving forward, developing patience will benefit you greatly.
Your lucky color is green.
Your lucky gems are Emerald, Aquamarine or Jade.
Your lucky days of the week Wednesdays, Fridays, Saturdays.
Your lucky numbers and years of important change are 5, 14, 23, 32, 41, 50, 59, 68, 77.
Famous people born on your birthday include P.T.Barnum, Wanda Landowska, Jean Cocteau, Henry Cabot Lodge 11, Milburn Stone, G.J.R.Pompidou, Carlos Sposito and Amelie Mauresmo.