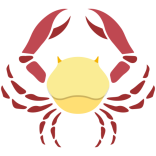 Sign of the zodiac: Cancer
Monthly tarot horoscope will help you plan your month well. Read your month tarot horoscope and see what awaits for you. See, whether for your zodiac sign month is going to be successful. With our horoscope, you will be ready for every waiting surprises and possible troubles. Remember, that your horoscope for month may be a warning and also a blessing.
Your January Tarot Horoscope:
Fool
- I am sure you Cancers are going to be ecstatic to see what this month has in store for you, compared to last month. If you recall, in August, we had the Hanged Man as your card. That meant stalls, transition periods, lots and lots of waiting. This month have the Fool card. You should begin to feel the levity almost immediately. Time for some fun, lighthearted, it's been sure, and taking risks the world that bring you excitement and joy. Nice change of scenery wouldn't you say? This is a good opportunity to follow whatever feels good and right even if it doesn't quite make much sense. If you find yourself gettin stuck again, try and focus on the fun again however you can! Obviously try not to jump off any cliffs, unless you have a hang glider attached to your back!
Check the tarot monthly horoscope for other signs:
Aries
Taurus
Gemini
Cancer
Leo
Virgo

Libra
Scorpio
Sagittarius
Capricorn
Aquarius
Pisces
Also check other horoscopes for the zodiac sign Cancer:
Daily
Daily love
Weekly
Weekly love

Monthly
Monthly tarot
Yearly
Zodiac profile