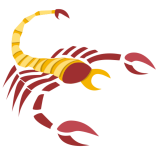 Sign of the zodiac: Scorpio
Monthly horoscope will help you plan your month well. Read your month horoscope and see what awaits for you. See, whether for your zodiac sign month is going to be successful. With our horoscope, you will be ready for every waiting surprises and possible troubles. Remember, that your horoscope for month may be a warning and also a blessing.
Your October Horoscope:
You've had your share of upheavals in both your personal and professional life over the last several weeks. With the Sun in your 12th house (the area associated with hidden enemies) in hard aspect to both Pluto (your ruler) and Uranus, you've likely experienced friction with those in your immediate environment - particularly family members and co-workers. Strained relationships can overshadow your more solid connections, but you can attribute this to resentments that are spilling over from previous months, as most of your more difficult transits are starting to lift. Starting on the 5th, Mercury and Saturn join together and move into your sign. The Saturn transit is most significant: this will be the first time it's entered Scorpio in almost 30 years. You may feel like you're scrambling to accomplish things you'd started over last couple years. This is a serious transit and can be slow-moving, but it's going to afford you the discipline to put your plans into action. Important decisions about your relationships, your health and your career are also indicated. With Mars, the North Node, the Sun and Moon all making appearances in your sign this month, this is the perfect time to re-invent yourself.
All signs of the zodiac:
Aries
Taurus
Gemini
Cancer
Leo
Virgo

Libra
Scorpio
Sagittarius
Capricorn
Aquarius
Pisces