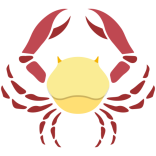 Cancer
: June 21 to July 22
GENERAL
This year 2023 is heralding a fluidity renewal in your life on all plans. You will have art to simplify things all while affirming you more, which will surprise people around you. Contrary to your discretion practices, you will need to be heard ... This will enable you to make essential developments in your entourage. This year is highly favorable to know deeply yourself.
WORK
If you hesitate to assert certain advantages for example or to expose your plans, particularly your ideas about operation and organization, it is time for you to act. Your intuitions don't mislead you, it is the moment to dare to express yourself more near your superiors. But you will be tempted to misuse your radiation, don't seek to make you feel sorry for. All this in the first four months lead you to pose crucial questions on your vocation to you, your career with the long run, but you will have huge facilities to project you in the future in a constructive way. You spontaneously think of specializing you, to healthily consider useful changes in your way of working. Take practical information, it will be the base of your progression this year. Basic work is supported, the concentration is with return and will help you to finalize the long term job.
LOVE
You will be receptive to your close relations throughout this year, it is within the framework of your hearth that you will have the most opportunities of personal blooming. You will have to exceed the obstacles that precisely, you will perceive more clearly than usually. Don't be bitter, don't look at that the black side, you will gain there to keep concentrated on your personal goals, and don't yield especially to temptation to cut off yourself in your shell... Your relations are denser, more dynamic, you won't have this year the leisure to take stock before April. You will be confronted with needs for assertion of your personality ever tested hitherto, while preserving the balance of your close relations. It will not be always easy because you will be tempted to exert a certain domination on others. Your capacity of persuasion will be in rise, you will be able better than ever to propose your assets, this period will enable you to stabilize your love life, during the last quarters. This period will be ideal to speak about your projects of officialization of your bonds, to consider a removal, or any change which engage you in the long run. You must face obstacles which you are perfectly able to reverse, to evolve to your objectives, by removing you from the barriers very right arrivals of last which are only brakes limiters.
MONEY
It is in this field that you will have the maximum of your cold blood capacities. Indeed, despite your activity intensifies, you will be more conscious than ever benefits which can bring to you financial safety. You will have in heart to manage your budget as well as possible, to spend your money in a judicious way, to be able to save more. New ideas, sometimes of intuitions will enable you to solve problems of the daily newspaper, you are centered on your ideals, firmly decided well to place your money in a constructive direction first of all. You are almost too rigorous! It is in particular as from April that you will have facilities to increase your profits, it is the moment to seek tracks in this direction.
RELATIONSHIP
You will have to resist to temptation which would consist into letting you distract too much, it is not the moment to trust no matter whom, be selective and particularly vigilant with regard to your private life: entrust to trustworthy persons. It would be positive to avoid making decisions too fast, wait May to see more clearly. Your moments of impulsiveness are likely to attract you useless sulkies. Despite you will have the feeling that your partner dominates the situation at the beginning of year, it would be good to dig to dialogue and to avoid directing you at all costs. It is in spring that on many points, you will be able to advance, take your dash.
VITALITY
Although the beginning of the year is announced testing, your form little by little will raise to the top, you will be with most of your form lasting the summer months, in agreement with yourself. The ambient rate is harmonized in the good sense. Your digestive system will claim some cares. Don't draw on the cord, avoid too spiced dishes. There is something to modify in your food mode. Adapt it more to your lifestyle. You will more listen to your body and respectful of its limits as from April. Cut yourself from everyday life, go out, devote yourself to your preferred activities will be essential for you in these times of intense activity which don't correspond to your natural rhythm. You profit from saturnian basic energy which in spite of the accesses of tiredness, gives you the endurance face to what is most important for you.



Check the yearly horoscope for other signs:

>




Aries
Taurus
Gemini
Cancer
Leo
Virgo

Libra
Scorpio
Sagittarius
Capricorn
Aquarius
Pisces
Also check other horoscopes for the zodiac sign Cancer:
Daily
Daily love
Weekly
Weekly love

Monthly
Monthly tarot
Yearly
Zodiac profile