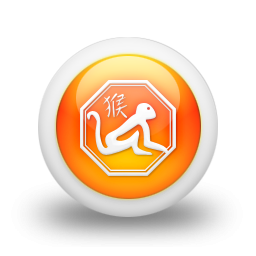 Sign of the zodiac: Monkey
Monthly Chinese horoscope will help you plan your month well. Read your month chinese horoscope and see what awaits for you. See, whether for your zodiac sign month is going to be successful. With our horoscope, you will be ready for every waiting surprises and possible troubles. Remember, that your horoscope for month may be a warning and also a blessing.
Your May Chinese Horoscope:
The Monkey is, like the Tiger, in a difficult situation when the Snake shows up. You have to be mindful of both your mental and physical wellbeing. Exercise cautiously, eat light meal, take care of your liver and sleep more when possible. Expect a month when everyone seems to want arguing with you. It is entirely yours to decide if you want to be confrontational, or let it go. When people or situations push our buttons, it is because somehow they hit on some of your weaknesses and have a point. Take this month as an opportunity to learn about yourself, and try to be diplomatic and flexible in all situations.
All signs of the zodiac:
Rat
Ox
Tiger
Hare
Dragon
Snake

Horse
Goat
Monkey
Rooster
Dog
Pig