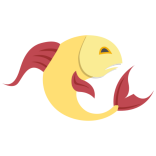 Sign of the zodiac: Pisces
Monthly love horoscope will help you plan your month well. Read your month love horoscope and see what awaits for you. See, whether for your zodiac sign month is going to be successful. With our horoscope, you will be ready for every waiting surprises and possible troubles. Remember, that your horoscope for month may be a warning and also a blessing.
Your October Love Horoscope:
The sun remains in your intimacy house through October 22, emphasizing your role in close relationships, and with Mercury visiting that house from the 7th until the 24th, you're inclined to ponder your personal life and confide in someone you trust. Meanwhile, friendly Venus is moving through your expansion sector until the 18th, inspiring you to enjoy the company of a wider range of new people and to share adventures with your boyfriend if you have one. Venus is vibing with Neptune in Pisces on the 1st, kicking off your month with an exciting encounter or a pleasurable escape, and a romantic trip or a date with someone outside your comfort zone is likely to go well. A Venus-Pluto connection on October 5 further encourages you to socialize, but a Mars-Jupiter disagreement that day implies friendship and sex aren't a good mix. Planets in those two houses are sparring during the first half of the month, calling for you to draw a clear line between your platonic and sexual bonds. Make sure you're sending out clear signals when the sun, Mercury and Jupiter tangle with Neptune on October 2, 12 and 23. Venus in your ambition angle will be harmonizing with Jupiter on the 26th, helping you feel more optimistic about achieving your relationship goals. And a Mercury-Neptune collaboration on October 30 nudges you to chat up a stranger if you're single; you're apt to find common ground without much effort.
All signs of the zodiac:
Aries
Taurus
Gemini
Cancer
Leo
Virgo

Libra
Scorpio
Sagittarius
Capricorn
Aquarius
Pisces