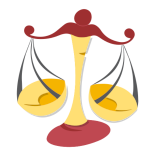 Sign of the zodiac: Libra
Monthly love horoscope will help you plan your month well. Read your month love horoscope and see what awaits for you. See, whether for your zodiac sign month is going to be successful. With our horoscope, you will be ready for every waiting surprises and possible troubles. Remember, that your horoscope for month may be a warning and also a blessing.
Your October Love Horoscope:
Mercury skips through your sign from October 7 until October 24, helping you to express yourself with ease and think through personal matters with objectivity. You'll need those abilities, since Mars is hiding out at the bottom of your chart all month, and his presence there is apt to make you feel wound up. He and Pluto are quibbling with planets in Libra on the 5th, 7th, 13th and 15th, putting you at risk of overreacting. If you get agitated, do your best to tune into your underlying emotions and understand how they're coloring your interactions. A full moon in your one-on-one angle on October 15 can trigger a turning point in a relationship, and you're likely to have very strong feelings about the situation. Take deep breaths, try to be a good listener and step back for a while to process the turbulence inside you and assess where you stand. The tone lightens significantly on the 26th, thanks to your ruling planet, Venus, in your communication corner vibing with Jupiter in Libra. You'll be able to tell people how much you care about them and might even drop the L-word for the first time if the spirit moves you. Single Libras can readily meet new prospects that day-especially if you broaden your horizons by checking out new spots in your neighborhood or on your commute. Even picking up your morning latte at a different café could do the trick.
All signs of the zodiac:
Aries
Taurus
Gemini
Cancer
Leo
Virgo

Libra
Scorpio
Sagittarius
Capricorn
Aquarius
Pisces