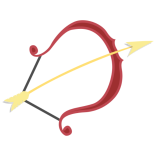 Sign of the zodiac: Sagittarius
Monthly love horoscope will help you plan your month well. Read your month love horoscope and see what awaits for you. See, whether for your zodiac sign month is going to be successful. With our horoscope, you will be ready for every waiting surprises and possible troubles. Remember, that your horoscope for month may be a warning and also a blessing.
Your October Love Horoscope:
Venus in your release corner clicks with Neptune on the 1st, alluding to very private romance if you have a partner and letting go of a past love if you're single. You might take care of someone in a show of compassion or take care of your own heart and heal. On the 4th and 14th, the sun and Mercury gel with Saturn in Sagittarius, inspiring you to connect with friends, especially if you've been uncharacteristically isolated. Reach out to people on October 11 as well, when Mercury meets up with Jupiter in your network zone. If you're unattached, that's a good time to attend big gatherings and let people know you're open to meeting new guys. Since that house also rules technology, joining a dating site or using an app you haven't logged onto in awhile could yield results. A full moon on the 15th will probably give you an urge to play, and it might bring a sudden crush that may or may not turn into something. Venus arrives in Sag on the 18th, sending your sociability and charm skyrocketing. Another bonus: You'll feel extra attractive during the next few weeks! That special glow is apt to be noticed, so put yourself in a position to draw in the right people, particularly on the 26th when Venus vibes with Jupiter. Her meetup with Saturn on October 29 could make you feel more inhibited, but it might inspire you to commit if you're already involved.
All signs of the zodiac:
Aries
Taurus
Gemini
Cancer
Leo
Virgo

Libra
Scorpio
Sagittarius
Capricorn
Aquarius
Pisces