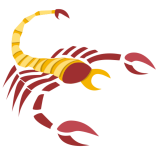 Sign of the zodiac: Scorpio
Monthly love horoscope will help you plan your month well. Read your month love horoscope and see what awaits for you. See, whether for your zodiac sign month is going to be successful. With our horoscope, you will be ready for every waiting surprises and possible troubles. Remember, that your horoscope for month may be a warning and also a blessing.
Your September Love Horoscope:
Venus is tucked away in your retreat corner, so you may want to take time off from socializing and relax by yourself or hole up at home with someone special. Resist the temptation to obsess over a private crush or past love on the 11th, when Venus clashes with Pluto in your mindset zone. You need to take your ego out of the equation and either help someone if you know he's worth it or get a guy out of your head if he's taking up valuable space. With Jupiter heading into your spirituality house on September 9 for a 13-month visit, the benefits of listening to your intuition and looking for lessons in past experiences will become abundantly clear. Scorpios often struggle with letting go, but when you're truly ready to walk away, your resolve is no joke. In the coming year, Jupiter can teach you about yourself and help you to loosen your firm grip and see what happens when you admit control is an illusion. The Saturn-Neptune fight that's been going on since last Thanksgiving recurs on the 10th, emphasizing the need to base self-esteem on fundamental assets and not to idealize love and happiness to the point where they feel unattainable. After Venus dances into your sign on the 23rd, you'll be in the mood to put on clothes you feel pretty in and go out with someone who appreciates your charms.
Check the monthly love horoscope for other signs:
Aries
Taurus
Gemini
Cancer
Leo
Virgo

Libra
Scorpio
Sagittarius
Capricorn
Aquarius
Pisces
Also check other horoscopes for the zodiac sign Scorpio:
Daily
Daily love
Weekly
Weekly love

Monthly
Monthly tarot
Yearly
Zodiac profile