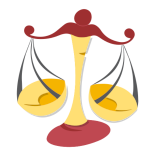 Sign of the zodiac: Libra
Monthly tarot horoscope will help you plan your month well. Read your month tarot horoscope and see what awaits for you. See, whether for your zodiac sign month is going to be successful. With our horoscope, you will be ready for every waiting surprises and possible troubles. Remember, that your horoscope for month may be a warning and also a blessing.
Your February Tarot Horoscope:
Emperor
- This is the time to, no shit, build your empire. Less thinking, more doing! No more pretending you don't know what you are doing. You do. It may be easier to stick your head in the sand and act like you don't know how powerful you are, but that isn't doing anything for your success in the world. You have what it takes. You spent last month in that dream place with the Star Card. This month is the time to pick an idea or two that came from allowing yourself to vision and begin to build it. You are on the right path! Things may change and morph over time but that's okay. The Emperor is the symbol for leadership and authority, it is also the card of structure and wisdom. He is well respected and grounded in his approach to building his empire. It is time to get into action and methodically build your solid foundation! Step by step, brick by brick, you are creating this new version / vision of your life and so if you get stuck, remember what you are building and why. Pretty soon you will be able to see some of the fruits of your labor and it will be strong and stable and awesome! You are just building the foundation now, you are not interior decorating. That's way later. Fine tuning and details are not needed in this moment. Get the base poured and make sure it gets packed in solid. Rome was not built in a day and it definitely was not carved out the first day either. Do the pouring of the foundation this month. Then let it dry a bit before building the next important layer. This is how empires are built after all.
Check the tarot monthly horoscope for other signs:
Aries
Taurus
Gemini
Cancer
Leo
Virgo

Libra
Scorpio
Sagittarius
Capricorn
Aquarius
Pisces
Also check other horoscopes for the zodiac sign Libra:
Daily
Daily love
Weekly
Weekly love

Monthly
Monthly tarot
Yearly
Zodiac profile