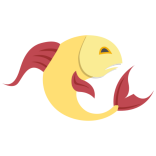 Sign of the zodiac: Pisces
Monthly tarot horoscope will help you plan your month well. Read your month tarot horoscope and see what awaits for you. See, whether for your zodiac sign month is going to be successful. With our horoscope, you will be ready for every waiting surprises and possible troubles. Remember, that your horoscope for month may be a warning and also a blessing.
Your June Tarot Horoscope:
Fool
- You are not your story is something a buddy once said to me, and I think it applies to the impulses I'm getting for you in the month of June. There are motivations that move deep within you, and these motivations tie a proper narrative together. Stringing one commentary after another in order to present a whole picture to the world around you - making you presentable to friends, family, mates, etc. June is going to ask you to embark on a journey to release that story. Drop that string of commentary, and let the bubbles of the 'formulated' narrative tumble away from you. June will bring you new identity issues to face and reflect upon. Just remember how amazingly shiny you are without the stories you tell, and let that lovely luster ooze from you like glorious, nutritive honey. It's your essence - let it show.
Check the tarot monthly horoscope for other signs:
Aries
Taurus
Gemini
Cancer
Leo
Virgo

Libra
Scorpio
Sagittarius
Capricorn
Aquarius
Pisces
Also check other horoscopes for the zodiac sign Taurus:
Daily
Daily love
Weekly
Weekly love

Monthly
Monthly tarot
Yearly
Zodiac profile