In Western astrology, astrological signs are the twelve 30° sectors of the ecliptic, starting at the vernal equinox (one of the intersections of the ecliptic with the celestial equator), also known as the First Point of Aries. The order of the astrological signs is Aries, Taurus, Gemini, Cancer, Leo, Virgo, Libra, Scorpio, Sagittarius, Capricorn, Aquarius and Pisces. Each sector was named for a constellation it was passing through in times of naming.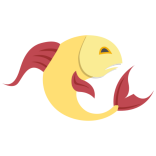 Pisces
: February 19 to March 20
Affirmation
: "I Believe"
Position
: Twelfth sign of the Zodiac - Self
Symbol
: The Fishes
Positive Polarities
: Creative, Mystical, Understanding of Others
Negative Polarities
: Dependent, Escapist, Self-pitying,
Element
: Water
Modality
: Mutable
Ruling Planet
: Jupiter and Neptune
Triplicity
: Last sign of the Water element
Animals
: Dolphin, Fish
Astral Colors
: Black, Blue, Emerald-Green, Light-Green, Pink, Violet, White
Gemstones
: Amethyst, Aquamarine, Chrysolite, Moonstone, Pearl, Pink-Shell
Metals
: Tin
Perfume
: Ambergris
Plants
: Lotus, Opium, Poppy
These Pisces people are also very magnetic, and some splendid healers are to be found among them. Their gift seems to be the peculiar and sacred one of laying on of hands. In this beautiful work their great desire to help often causes them to give too much, and consequently to deplete and injure themselves. These people are rarely satisfied with giving. They will empty their pockets and spend all the vital force they have on hand, and then fret because they have not done more. Those born under this sign do not demand quite so much as they give; if they did they would be the most difficult people on earth to live with. These are the people of quick attractions and equally quick repulsions, though they are generally too kind to let their aversions be seen. They are very fond of beautiful things in nature and art, and among them are to be found excellent art critics, artists, and writers. They have a limpid purity of style when properly educated, which resembles the clear, blue, shimmering water that is their native element. When writing, they always have an eye to the placidly picturesque. They are naturally very honest and clean-minded, and the women are easily disgusted with anything coarse or common. In marriage they become very unhappy if the relation is degraded into a merely sexual one. This sign governs the feet, but it leads those born under it into clean, clear places, unless they yield themselves to its temptations and inherent weaknesses.
All signs of the zodiac:
Aries
Taurus
Gemini
Cancer
Leo
Virgo

Libra
Scorpio
Sagittarius
Capricorn
Aquarius
Pisces
Also check other horoscopes for the zodiac sign Pisces:
Daily
Daily love
Weekly
Weekly love

Monthly
Monthly tarot
Yearly
Zodiac profile